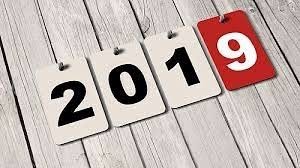 In keeping with our tradition of more than 20 years, we are pleased to provide thoughts on what 2019 might hold instore.
1.Markets
When comparing the current environment to that of a year ago, it's clear that everyone has softened their predictions.
Investors continue to worry about geopolitical issues such as the US, China & Brexit but appear to have stopped worrying about North Korea. Investors are also looking at global interest rates as these provide insights into the future and explanation for behaviors right now.
The IMF has recently softened their projections for global economic growth to 3.5% in 2019 and 3.6% in 2020. A quick survey of global bond yields shows investors agree with this view; Yield curves are very flat but slightly positive meaning that markets predict slow, but positive, growth.
Domestically we have a property market which has cooled and we face a federal election. This will almost certainly affect our economy as times of uncertainty tend to pause activity. As an example, it was reported in January that motor vehicle sales have already slowed.
As many of you know, markets are always trying to guess the future. This means they behave differently to economies. Blackrock, the largest fund manager in the world, believe investors should cushion their portfolios using quality bonds (something most balanced investors are already doing). They also point to high quality, appropriately priced equities being part of their solution. Interestingly they believe interest rates will not cause as much problems in 2019 as they did in late 2018.
Some people believe the sell-offs in property and shares provide an opportunity for investors whereas others believe there is more volatility ahead.
Our belief is that the current environment is one in which patience, diversification & careful attention to risk will be rewarded. There is always opportunity if you look closely enough.
2. The Australian environment

The Royal Commission into misconduct within Banking & Superannuation triggered lots of change in 2018 and we can expect further regulation and changes in 2019. For consumers this has led to finance, particularly investment loans, becoming harder to obtain. For vertically integrated advice & wealth management businesses, we're witnessing ownership changes as well as structural change.
Firms like Transition Wealth have been amongst the few beneficiaries of this environment experiencing an influx of new clients. Cognizant of the fact that trust & vulnerability go hand in hand, clients are looking to avoid conflicts of interest and partner up with advisers where their best interests are served. Financial management isn't getting any simpler and we are grateful to be in such a strong position to serve.
At a political level we are in a pre-election period where politicians are talking lots of change. This ranges from a full overhaul of Super (mainly affecting the young), changes to Franking Credits, Negative Gearing, Capital Gains Tax and more. While the debate is healthy, it's important to recognize that most of these changes are in discussion phase. Once the election is decided the Government will need to prioritise policy & negotiate change before legislation passes. Needless to say, we will do our best keep you abreast of the changes and strategic implications to you.
3. Advice themes
We spent the majority of 2018 rebalancing portfolios in anticipation of stormy weather. This was a well-timed initiative as markets weakened in the final quarter. While much of the work is done, we will continue to look for opportunities to improve the management of your investments, particularly switching to evidence based strategies that can credibly demonstrate value being created above fees that are charged.
Fee reductions will continue to be on the agenda for 2019, particularly in the administrative and investment management areas.
There have been plenty of Superannuation changes of late including contribution limits, the ability to make use of unused concessional contribution limits and Transfer balance caps to name a few. I can't remember a year when navigating Superannuation rule changes didn't appear on the agenda for review meetings.
Insurance is an important risk management tool for many people's finacial strategy. We continue to review and analyse people's position with a view to ensuring their coverage is appropriate and claimable.
One interesting development for more experienced people is the return of favorably assessed annuities for Age Pensioners. This development can help some people gain additional Centrelink benefits.
4.Food for thought
If there is one thing that defines our current world it is change. This change can be quite exciting but can also make us feel quite unstable.
To this end, you might enjoy the following talk. Stephen Pinker is an intellectual and takes an insightful look at the state of the world (I think it also has application to the investment world). Enjoy!
Steven Pinker – Is the world getting better or worse? A look at the numbers
Yours sincerely,
Scott Hammond on behalf of the team at Transition Wealth